Earth Care Projects
FBC Green Team Garden Group

We are trying to assist people to make room and plant some native pollinator and bird feeding plants and their gardens, yards or on their patios.
Alice Grow has generously offered to be Ask Alice. Contact her through email or call her (see FBC directory) and describe or send photos of your garden area and ask for suggestions about what to plant and where to get those plants. In a few cases, we may be able to supply you with some local native plant species, which are the most efficient way to support our local plant/insect/bird web of life. Other plants aren't so local, or aren't so native but do support pollinators or provide bird food (e.g. Purple Coneflower (Echinacea purpurea). The Plantsmen Nursery near Ithaca is a reliable guide and sells many local native species and other pollinator-friendly plants.
As soon as we know who is interested, we will send out suggestions for native plants (and sources for obtaining them) that you could plant to support pollinators, insects and birds. Hopefully, we will also have some local, native plants available to share.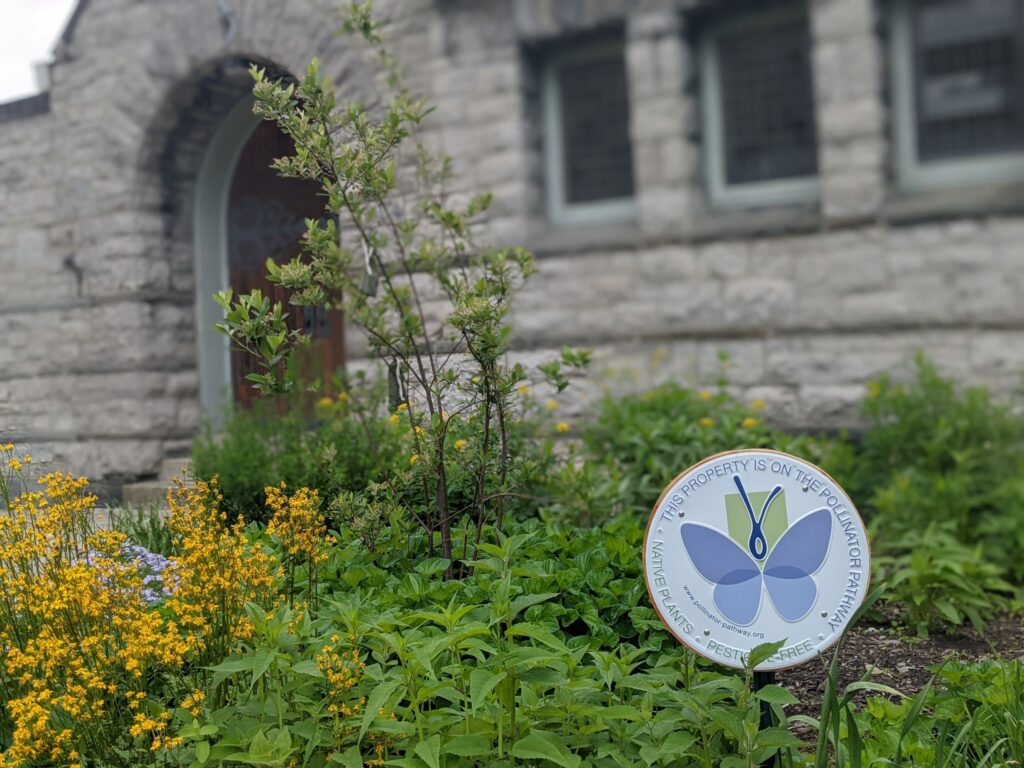 Pollinator/Habitat Garden
Call or email Alice Grow if you want to be involved. She has a nice encouraging smile too. We installed a pollinator/habitat garden on the FBC church lawn under the Christ Window at FBC in Ithaca. The intent of this project is to educate ourselves and everyone about ways we could use our land to support the web of life in addition to the human species.
Waterway Trash Pickups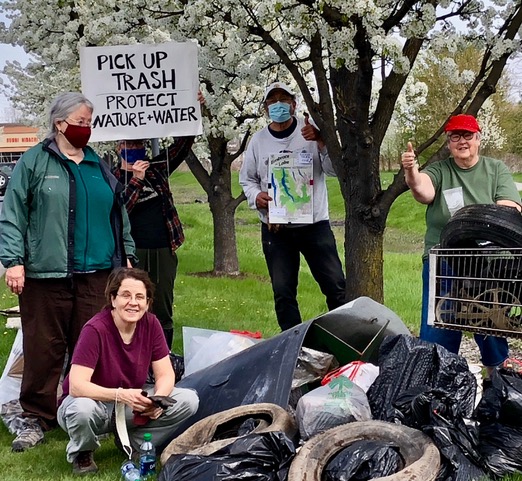 Contact Tina Hilsdorf if you want to be involved. Before vegetation fully leaves out, it is a good time to remove trash from local roadside ditches, creek, pond and lakeside sites. It not only looks better but it prevents plastics (which don't biodegrade but just break down into smaller and smaller bits) from entering our water systems. You can social -distance while you do this, anywhere there is trash. If you know of some accessible spots that need cleanups, let Tina know. Tina can help you with safety tips, grabbers, ideas for separating recycling from trash and a nice encouraging smile.
FBC Green Library
Before the pandemic we began creating the FBC Green Library of books and printed materials at the Church. We have also begun development of a parallel library of green electronic resources. More on this soon.
RGRABC Creation Collaborative
Tuning in to RGRABC Creation Collaborative ( Rochester Genesee Region of American Baptist Churches (RGRABC).  Three of us attended their webinar about Project Drawdown. It was good.  If anyone is interested in pursuing Drawdown or connecting with RGRABC Creation Care efforts contact Tony Lister or Louise Mudrak.