This Sunday, March 26, at First Baptist
Please join us this weekend for worship with First Baptist in Ithaca. We are currently worshiping in a hybrid in-person/Zoom mode starting at 10:00 am. If you are joining us in person, please note the COVID protocols described below. If you'd like to join us on Zoom and are not on the First Baptist mailing list, please contact [email protected] for the link.
Please join us for worship at First Baptist on this fifth Sunday of Lent .
Our own Rev. Tony Lister will be leading the service this week; his message is titled Was Blind, But Now I See;
The choir will present Mozart's Lachrymosa as the anthem; and
After the worship service there will be a brief time for fellowship, including in Breakout Rooms for those attending via Zoom, followed by Adult Education. This week Leslie Schultz will discuss What is this Cross All About? Leslie will present the story of Jesus' crucifixion in the historical context of how Empire reacts to threats and how the cross is connected to the current and ongoing suffering and oppression of the least of us. And that its representation is a reminder that we can do better through noncooperation with evil and the withdrawal of our support for dominant systems.
Messy Church — Saturday, April 1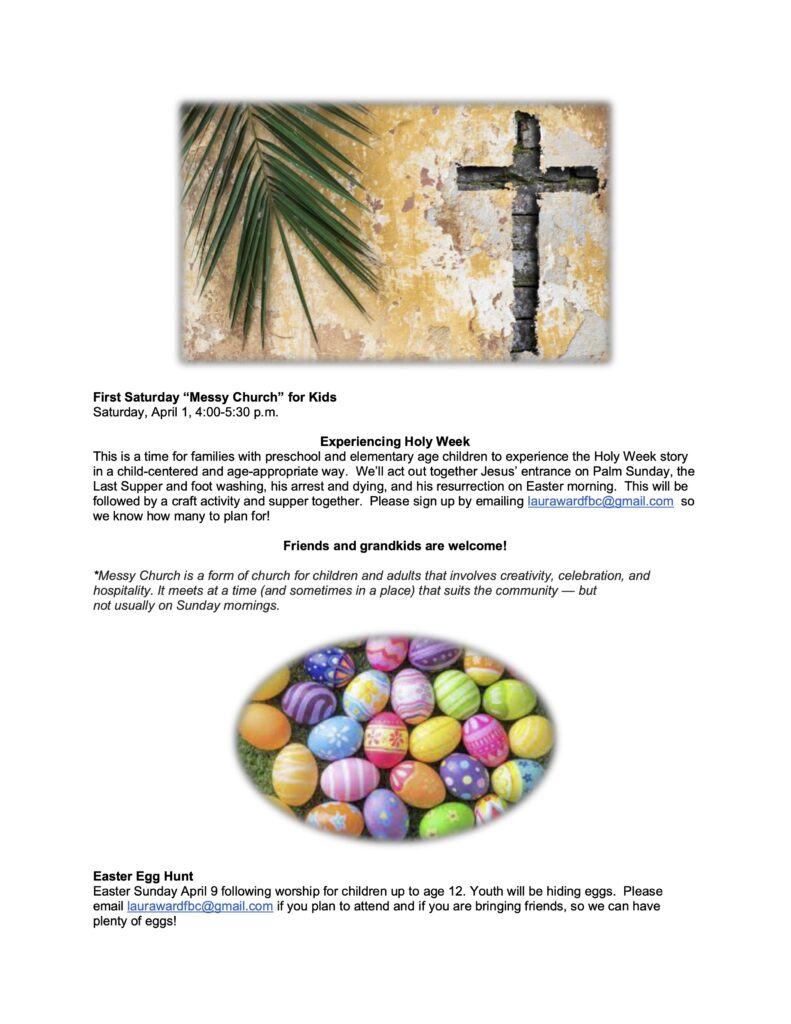 Messy Church is a form of church for children and adults that involves creativity, celebration, and hospitality. It meets at a time (and sometimes in a place) that suits the community — but not usually on Sunday mornings. Please join us on Saturday, April 1, from 4:00 – 5:30 pm for a Holy Week version, and following worship on Easter Sunday, April 9, for our Easter Egg Hunt; click here to see a printable version of the poster on the left with more details.
COVID Protocols
We are continuing hybrid in-person/Zoom worship services. Please feel free to join us, either in person or via Zoom. If you want to join us via Zoom, and are not already on the First Baptist email list please contact [email protected].
We now know that vaccines are very effective against the omicron variant; please be sure to get your booster if you haven't already! In spite of the continued presence of COVID in our community we have adopted a policy of mask-optional for those worshiping in person. We ask everyone to continue to be mindful of safe distances, to limit physical contact, and to avoid attending in person if you are feeling unwell and/or are exhibiting symptoms of COVID infection.
As usual, audio versions of the Scripture Reading and Message of this service will be posted on the Recorded Sermons page under this tab shortly after the conclusion of the service.
Saturday Evening Prayer Services
During the 2020 Lenten season, First Baptist joined together on Saturday evenings for special Lenten Prayer services. These were so successful, especially after they went on-line using Zoom, that we have decided to continue them for the foreseeable future. Please consider joining us for these special services:
Saturday Evening Prayer services from 5:00 – 6:00 p.m. These services will include opportunities for chant, Scripture reading, and silent meditation.
These also will be offered only remotely using Zoom. See weekly email reminders for the Zoom Meeting link.
Please join us for one or more of these services!